Autoimmune Encore Weekend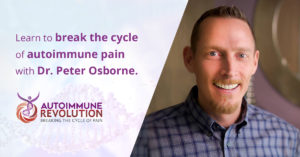 Absolutely free and online from November 17 – 18, 2018
The Autoimmune Encore Weekend starting Saturday, November 17, 2018. — all talks will be unlocked until Sunday, November 18, 2018!
If you missed the summit, then you missed the FACT that conventional doctors STILL treat autoimmune diseases by prescribing immune-suppressing drugs — which is causing an even greater health crisis.
You CAN learn to treat the root cause of your pain, not just the symptoms!
—>Click here to listen to the encore of The Autoimmune Revolution for FREE now! (start with ANY of the "featured talks!")
Find a few minutes to learn from a few of the "fan favorite" talks, such as:
+ Autoimmune Recovery: Putting the Puzzle Pieces Together, Dr. Peter Osborne
+ Brain Inflammation, Autoimmune Disease and Nutrition, Dr. David Perlmutter
+ Parasites and Autoimmune Disease, Dr. Ann Louise Gittleman
+ A Functional Medicine Approach to Autoimmunity. Dr. Mark Hyman
+ CIRS: Mold Toxicity, Hormone Disruption and Autoimmunity, Dr. Jill Carnahan
+ Using Self-Awareness, Common Sense and Good Judgement, Sayer Ji
+ Key Triggers for Autoimmunity, Dr. Jay Davidson
+ And more!
Take Advantage Now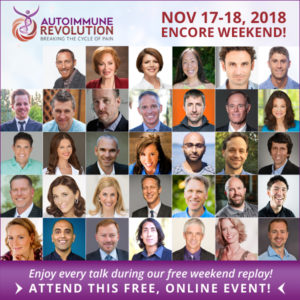 Here's how BEST to take advantage of this expert health information:
—>1. Register immediately to join us for Encore Weekend! OR
—>2. Purchase the expert talks to watch at your own pace (which also helps me/us continue to reach people with this message and mission)! SAVE $20! SALE ENDS MONDAY!*
*When you purchase the talks, you gain long-term access to learn from them at your own pace, plus access to the transcripts AND you unlock the bonus eBooks and eGuides from our amazing speakers!
I hope you take advantage of this tremendous opportunity to learn about reversing and preventing autoimmune diseases!
Thank you.
Jimmy
P.S. I encourage you to find time in your schedule to catch 2-3 of the "featured" talks — you'll see how incredible this event truly was!