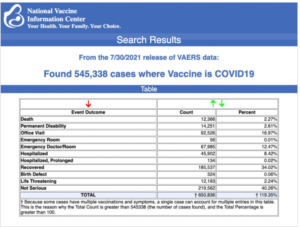 Data released today by the Centers for Disease Control and Prevention (CDC) showed the total number of reports (including foreign and U.S.) of deaths following COVID vaccination, across all age groups, surpassed 12,000. The numbers will obviously change each and every week, so check back often or go to VAERS.
The data comes directly from reports submitted to the Vaccine Adverse Event Reporting System (VAERS), the primary government-funded system for reporting adverse vaccine reactions in the U.S.
The People's Testaments from the Children's Health Defense Site
Hear the people's testimonies live from around the world as the people share their experiences following vaccines, emergency use COVID 19 injections, mask mandates and more with Polly Tommey.
Woman Dies from CJD (Prions in Brain) 3 months after COVID Vax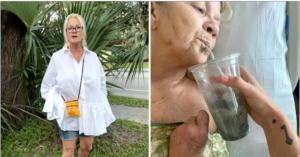 Cheryl Cohen, a healthy 64-year-old woman from Florida, died three months after her second dose of Pfizer's COVID vaccine. According to Chery's daughter, Gianni Cohen, her mother suddenly developed Creutzfeldt-Jakob Disease (CJD) — a rare, degenerative and fatal brain disorder — soon after she was vaccinated.
Gianni said her mother received the first dose of Pfizer on April 5, and her second dose on April 25.  On May 6, Cheryl experienced her first episode indicating "something was neurologically wrong," Gianni explained. "She had extreme brain fog and confusion. She couldn't remember where she was driving, and got really scared."
On May 31, Cheryl called 911 because she was experiencing a severe headache. She was taken to Nordstrom Medical Center in Homestead, Florida, where she was hospitalized for 10 days.
Gianni said she was surprised when she found out her mother had been vaccinated, as she comes from a family of un-vaxxers. She believes like many Americans, her mother felt pressured to get vaccinated because of her job and the media pressure.
On July 19, Cheryl was discharged to hospice, where she died on July 22, 2021.
IN MEMORIAM: VICTIMS OF COVID-19 "VACCINES"
BBC Radio Host Died of COVID Vaccine Complications, Coroner Confirms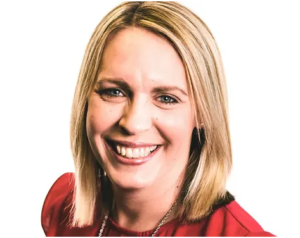 A radio presenter died due to complications from the AstraZeneca Covid-19 vaccine, a coroner has found.
Newcastle coroner Karen Dilks heard Ms Shaw suffered blood clots in the brain which ultimately led to her death.
The inquest heard the condition linked to the Oxford-AstraZeneca vaccine was very rare.
The coroner said: "Lisa died due to complications of an AstraZeneca Covid vaccination."
Federal vaccine court hasn't helped those whose lives were altered by COVID-19 shots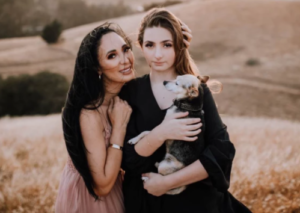 Angela Marie Wulbrecht, left, pictured with daughter Gabriella, suffered a severe reaction after getting a COVID-19 vaccine and has been unable to work.
Angela Marie Wulbrecht jumped at the first chance to get a COVID-19 vaccine, driving three hours from her home in Santa Rosa to a mass-vaccination site on Jan. 19. Twelve minutes after her Moderna shot, she stumbled into the paramedic tent with soaring blood pressure and a racing heartbeat.
So began a calvary of severe fatigue, brain fog, imbalance and other symptoms that are still with her eight months later.
Wulbrecht, 46, had been a nurse for 23 years before the fateful shot. She was healthy, ate a vegan diet and was an accomplished salsa dancer. Since January, she's had to leave her job and has missed out on many activities with her husband and 12-year-old daughter, Gabriella. She has spent about $35,000 on out-of-pocket medical bills, despite having insurance.
TRAGIC LOSS 

Couple married for 50 YEARS die from Covid within hours of each other after shielding for over a year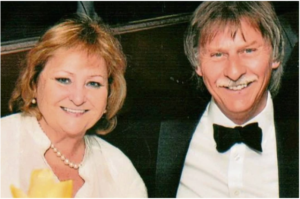 The couple, from Auchtermuchty, Fife, ran a business together and were committed Christians who both served in ministry. Reported from the Sun August 9, 2021.
Tragically they caught Covid and were put in a shared a hospital room at Ninewells Hospital, Dundee.
When John died in front of May she made the heartbreaking decision to refuse her own treatment.
Singing Amazing Grace, 12 hours after her husband passed away, May also died.  Both had been double vaccinated, according to reports.
13-Year-Old Michigan Boy Dies 3 Days After Second Dose of Pfizer Vaccine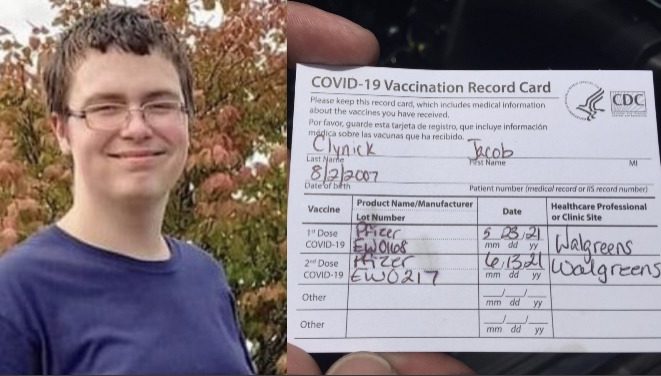 A 13-year-old Michigan boy died June 16, three days after he received his second dose of Pfizer's COVID vaccine.
Preliminary autopsy results indicated that following his vaccination, Jacob Clynick's heart became enlarged and was surrounded by fluid — symptoms similar to those documented in other teen boys who experienced myocarditis following COVID vaccination.
19-Year-Old College Freshman Dies From Heart Problem One Month After Second Dose of Moderna Vaccine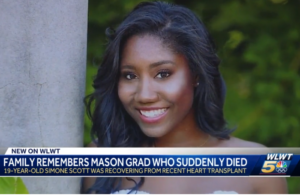 Simone Scott, a 19-year-old freshman at Northwestern University in Evanston, Ill., died June 11 of complications from a heart transplant she underwent after developing what her doctors believe was myocarditis following her second dose of the Moderna COVID vaccine.
Scott received her second dose of Moderna on May 1, WLWT 5 reported. When the 2020 Mason High School graduate and senior class vice president paid a surprise visit to her parents for Mother's Day, May 9, her mother said she noticed Scott wasn't feeling well.
Canada Quebecer dead from blood clot identified as Francine Boyer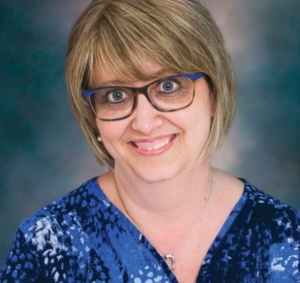 MONTREAL – Francine Boyer has been identified as the 54-year-old Quebecer who died from a blood clot after she received the AstraZeneca COVID-19 vaccine.
Hers is first fatality in Canada linked to the shot.
Alain Serres, Boyer's husband, confirmed her identity in a press release Tuesday night after Quebec Public Health Director Dr. Horacio Arruda confirmed the death at a government update on the COVID-19 situation earlier in the day.
Originally from Saint-Rémi, south of Montreal, the mother of two and grandmother, died on April 23, 2021.
35-Year-Old Woman Dies of Brain Hemorrhage 11 Days After Receiving J&J Vaccine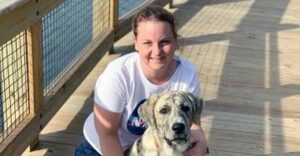 The family of a Michigan woman says she died as the result of complications 11 days after receiving the Johnson & Johnson (J&J) COVID vaccine.
Anne VanGeest, 35, died April 19 at Mercy Health Saint Mary's hospital in Grand Rapids from an acute subarachnoid brain hemorrhage, FOX 17 reported.
Brazil suspends use of AstraZeneca vaccine in pregnant women nationally after death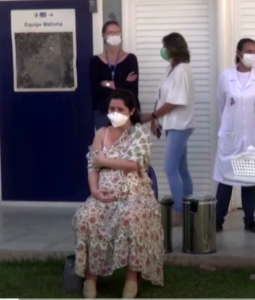 Brazil's federal government on Tuesday nationally suspended the vaccination of pregnant women with the AstraZeneca (AZN.L) COVID-19 shot, after an expectant mother in Rio de Janeiro died from a stroke possibly related to the inoculation.
Franciele Francinato, coordinator of the Health Ministry's vaccination program, told reporters the suspension was enacted as a precautionary measure after health regulator Anvisa issued a warning about the vaccine's use in pregnant women earlier in the day.
The pregnant woman in Rio de Janeiro died after receiving the AstraZeneca shot, according to state Health Secretary Alexandre Chieppe.
Madison woman dies from COVID-19 she contracted after full vaccination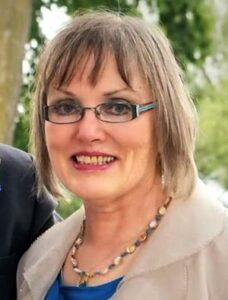 A 75-year-old Madison woman, Olivia Kingtree, died from COVID-19 Sunday after contracting the illness more than a month after being fully vaccinated from the Moderna shot.
Dr. James Conway, a UW Health pediatrician and vaccine expert, said breakthrough cases and deaths are a reminder that the vaccines, while highly effective, aren't a complete guarantee infection won't occur.
"People who are vaccinated need to remember that it doesn't make them superhuman," Conway said. "Especially if they're in a high-risk category, they should still practice some moderate avoidance of activity."
Obituary for Jeanie Marie Evans in Atchison , Kansas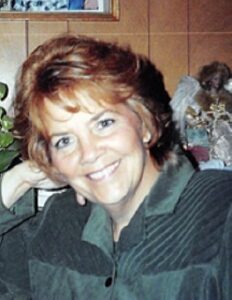 Jeanie M. Evans, 68, of Effingham, Kansas died unexpectedly on Wednesday, March 24, 2021 at the Stormont-Vail Hospital from a reaction to the Covid vaccine.
EMS dispatch records say a 68 year old woman, Jeanie Marie Evans had an allergic reaction at a public health vaccination hosted at the Keystone School.
The Kansas State Health Department says she started experiencing anaphylaxis symptoms (an allergic reaction to the shot).   Doctors are not sure it was the vaccine, but it sure seems coincidental.
"Hammerin Hank Aaron and Marvelous Marvin Hagler died after taking the COVID-19 vaccine" says Aubrey Huff
Did these men die from the shot? There are many deleted posts in Facebook and Twitter, you be the judge.
Braves legend Hank Aaron dies at age 86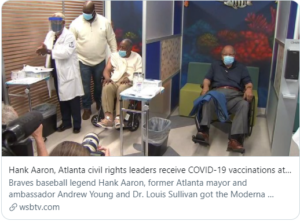 January 05, 2021 at 7:22 pm EST. Braves baseball legend Hank Aaron, former Atlanta mayor and ambassador Andrew Young and Dr. Louis Sullivan got the Moderna COVID-19 vaccine. 
January 22, 2021 at 11:19 pm EST.  Legendary Atlanta Brave and Major League Baseball record holder Hank Aaron died Friday at the age of 86.  
Here is an interesting note from Bradley Beal's wife Kamiah Adams from her IG and Twitter account.
Marvelous Marvin Hagler dies at age 66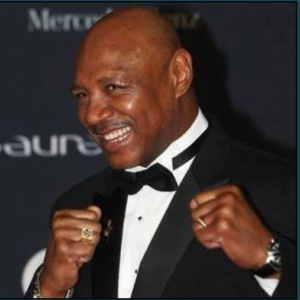 Hagler, a middleweight champion in the 1980's and is a member of the International Boxing Hall of Fame, died suddenly. Thomas "Hitman" Hearns, said in a March 13 Instagram post with a photo of Hagler: "A real true warrior Pray for the king and his family.. he's in ICU fighting the after effects of the vaccine! He'll be just fine but we could use the positive energy and Prayer for his Full Recovery!" He never did recover and died at age 66, March 13, 2021.
'Perfectly Healthy' Florida Doctor Dies Weeks After Getting Pfizer COVID Vaccine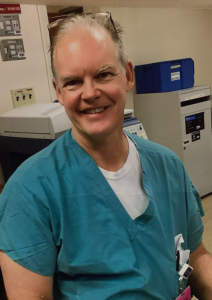 Miami medical examiner is investigating the death of 56-year-old Dr. Gregory Michael who reportedly died from a rare autoimmune disease 15 days after being vaccinated. Michael's wife wants her husband's death to serve as a warning to others.
The wife of a Florida doctor who died 15 days after receiving Pfizer's COVID-19 vaccine told reporters at USA Today and the Daily Mail that her husband was "perfectly healthy" before he got the vaccine.
Heidi Neckelmann said her husband, 56-year-old Dr. Gregory Michael, "sought emergency care three days after the shot because he had dots on his skin that indicated internal bleeding."
Michael received the vaccine on Dec. 18 at Mount Sinai Medical Center in Miami Beach, where he'd worked for 12 years as an OB-GYN. He died on Jan. 3 after suffering a hemorrhagic stroke related to a lack of platelets, a condition called thrombocytopenia, or as the Daily Mail reported, acute idiopathic thrombocytopenic purpura (ITP).
Tucker Carlson asks a simple question: How Many Americans Have Died After Taking The COVID Vaccines?
This is from a May 5, 2021 edition of Tucker Carlson commentary, he of course is a Fox News host. In this edition he states government statistics showing more Americans have died after receiving the COVID vaccine in four months than from all other vaccines combined in the last 15 years.
Surprisingly, when podcaster Joe Rogan asked whether healthy young people ought to get the COVID vaccine, the media treated him like a criminal: 
CNN's JOHN AVLON: We know the anti-vaxxers conspiracy theories have been proliferating online but it doesn't help when people with major platforms feed the beast-like Spotify's $100 man Joe Rogan
MSNBC's YASMIN VOSSOUGHIAN: Dr. Fauci, before you go I want you to weigh in on Joe Rogan…How frustrating is it for you for this misinformation to continue to spread about COVID especially when there are folks out there still saying it's a hoax. 
MSNBC's STEPHANIE RUHLE: It's disappointing before Joe Rogan is a hugely influential person with a massive audience. It's mystifying why he'd give people such bad information that puts them in harm's way. 
CNN'S BRIANNA KEILAR: Joe Rogan, one of the world's highest-paid and most popular podcast hosts, is giving air to anti-vaccine narratives.
Tucker says: Anti-vaccine narratives. He did nothing of the sort. Almost everything they said was a lie that obscured a very simple and potentially relevant question that he asked, which is: should healthy young people receive the vaccine? Rather than embellishing a simple statement, there is no need make up and denounce him as an anti-vaxxer kook. A danger to public safety. 
Furthermore here is a great analogy of Joe Rogan's statement from Yahoo News, "Joe Rogan, who's not a doctor, gives terrible vaccine advice." That's the same Yahoo News that published this piece:  "5 things Bill Gates wants you to know about COVID-19 variants."  Come on, rolling my eyes and swearing.