I want to help you manage your type 2 diabetes naturally. Controls For Diabetes may collect a share of sales or compensation from the links on this page.
OXO Coffee Maker Review For Low Carb Lifestyle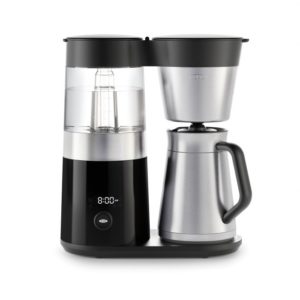 There is an art and science to brewing the perfect cup of coffee. OXO has taken the magic to the next level to make a fresh delicious cup. The only thing you need to do is supply fresh organic  coffee beans, a grinder, and fresh water. Here is my OXO Coffee Maker Review For Low Carb Lifestyle.
I have owned the OXO ON Barista Brain 9 Cup Coffee Maker for 3 years. Yes, 3 years and it still runs like a champ. My friends and family have consumed well over 2 thousand cups, with me consuming the most. The OXO ON is perfect for a low carb lifestyle, and anyone that wants a perfect cup of coffee.
Unfortunately I have surpassed the 2-year manufacturers warranty and if it dies, oh well. I find as long as you maintain the coffee maker it should run like a well maintained car. Clean after every use and descale when needed, follow the instruction guide, simple.
Stylish Design
Looking at the design makes you think stylish high tech coffee machine used in the best coffee shops. Yet, the OXO ON Barista Brain 9 Cup Coffee Maker, is simple, easy to use and very easy to clean. I have owned many coffee makers from the 1 cup pour over to 12 cup makers. The OXO On is by far the best on par with a single cup pour over.
This machine makes 9 – 4.5 ounce cups of coffee with the push of a button. Whether you want 1 cup or 9, set the setting to 2 – 4 or 5 – 9. 7 minutes from start to finished brew and you can enjoy a cup or the whole pot. Note 2 – 4 cups takes less time and I have not used that setting in a long time.
Specification Features
– Specialty Coffee Association (SCA) Certified for gold-standard home brewing
– Rainmaker™ shower head disperses water evenly over coffee grounds
– BetterBrew™ precision brewing controls temperature and brew cycles
– Water temperature is precisely heated and held at the perfect temperature for coffee (197.6-204.8F) throughout the entire brew cycle
– Fully programmable with automatic brew-start timer
– LED display shows brewing status, time and coffee freshness at a glance
– Double-wall stainless steel thermal carafe keeps coffee hot
– Cone-shaped brew basket maximizes flavor extraction, whether you're making 2 or 9 cups
– Internal mixing tube blends coffee as it brews so your last sip is as delicious as your first
– Bisphenol A (BPA) free
– Dimensions 15″ x 8.3″ x 17.2″
– Weight 11.4 lbs
– Voltage 120 Volts AC 60Hz
Barista Brain
Microprocessor controls the BetterBrew, water temperature and allows fully programmable brew start timer.
Specialty Coffee Association (SCA)
SCA Certified Home Brewer Program The Science Behind Delicious Coffee
Made by coffee science experts and professionals. The program reviews coffee makers designed for in-home use and to determine if they meet the coffee quality requirements. With decades of industry knowledge and research by the Coffee Brewing Center. All SCA Certified Brewers have met these requirements, which are based on proper water temperature, brewing time, and ability to brew within the SCA Golden Cup recommendations.
Brewers that pass the test as described and conducted by the SCA, will join the prestigious short list of SCA Certified Brewers(1). To date there are 25 coffee makers that meet the stringent requirements.
Bisphenol A (BPA)
Bisphenol A (BPA) is an organic synthetic compound used in plastics and epoxy resins. Used as a structural component in plastic beverage bottles and as coating for metal surfaces like cans in food packaging. The effects of BPA on human health are controversial. BPA has been associated with a variety of medical problems. Clinical observational studies in humans show a positive link between BPA exposure, the measurement of urinary BPA levels, and the risk of developing type 2 diabetes (2).
Advantages
– Programmable – push button and switch control
– Easy to clean and will not store water
– No pods
There are 1 cup coffee makers out on the market as you know. I will not mention names like Keurig, but any machine that has an internal water storage heater has the potential to store mold. The reason it stores mold is that it is very hard to clean, to clean it you must take it apart(3). Furthermore, we all know that pods cannot be recycled and contain BPA.
Disadvantages
Height, the machine as you can see is a bit on the high side and will not sit underneath a low cabinet. In any event, do not make coffee under a cabinet, allow free counter space for brewing coffee.
Descaling
Descaling process takes about 60 minutes but is straight forward. The Barista Brain tells you when it needs to be descaled, a red exclamation will magically pop on. When this happens you fill the reservoir with descaling fluid, turn the knob to the right until it turns bright red, and press the button.
Some common sense notes, do not overfill the tank and use the carafe to catch the descaled fluid. Lastly, run a couple of cycles of hot water through the machine before making a pot of coffee. The red exclamation will go away and you are good to go.
Simple, let's start making some fresh delicious coffee.
Cost
Taken from the USA TODAY calculator comparing Starbucks to homemade coffee per cup. A cup of Starbucks coffee 16 ounce Grande is $2.10. For those of you that drink from Starbucks or similar coffee shops near you. Starbucks cost of drinking 2 a day works out to $126.00 per month. $1,512.00 per year.
Make at home 2 a day 16 ounces using Folgers or Maxwell House coffee, you spend $4.80 per month, or 58.40 a year. Home brew estimates are based on a 34 ounce can which is about $.08 per 16 ounce serving.
Let's do a bit of math, 2 cups of Starbucks for 2 months is $252.00. Stop Starbucks for 50 days $210.00 and you can pick up the OXO ON Barista Brain 9 cup coffee maker and make coffee at home. Your savings will be huge.
Quick Note
The OXO ON Barista Brain 12 cup coffee maker has been discontinued and an 8 cup coffee maker will soon be available.
Summary
The OXO ON Barista Brain 9 cup coffee maker is simple, long-lasting, great looking, BPA free, SCA approved and programmable. Finally, I hope the OXO Coffee Maker Review For Low Carb Lifestyle was helpful for you. No matter what your lifestyle is low carb, keto or whatever pick one up.
Coffee contains antioxidants and you don't have to worry about insulin resistance.  It consistently makes a delicious fresh pot of coffee each and every time it is used. So what do you think?
Do you want one? Get one here.
Recommended Accessories
Bretani Manual Coffee Grinder,      KitchenAid blade grinder,    Goldtone #4 BPA free, reusable cone filter,      Melitta #4 bamboo filters,     OXO Brew Descaler fluid.
References
1. SCA Certified Home Brewer Program https://sca.coffee/certified-home-brewer
2. Influence of Bisphenol A on Type 2 Diabetes Mellitus https://www.ncbi.nlm.nih.gov/pmc/articles/PMC5086728/
3. https://thewirecutter.com/reviews/best-coffee-maker/#dont-get-a-keurig-why-we-dont-recommend-keurig-machines
Lastly, I thank you for dropping by and reading this post.  Please let me know your thoughts and comments.