Don't miss Encore Weekend at Get Off Your Sugar Summit, online and free from April 4-5, 2020!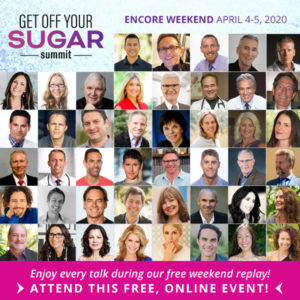 In the last 100 years, sugar consumption has skyrocketed. More addictive than cocaine, sugar alters brain chemistry and hijacks your health — causing craving and withdrawal symptoms, binging and weight gain. Today, the average American consumes at least a half-pound of sugar per day (that's 130 pounds every year!) — directly contributing to the development of type 2 diabetes, heart disease, non-alcoholic fatty liver disease, cancer and other health problems.
—>>Leave sugar behind when you attend this free, online event!
WHY ATTEND?
To begin with, your host, Dr. Daryl Gioffre, has personally struggled with and healed from sugar addiction and pre-diabetes. Consequently, he became a health advocate after witnessing his father struggle with sugar addiction and cancer. Hence, he vowed to do everything in his power to prevent people from suffering the way that his father did. Finally, he created Get Off Your Sugar Summit to illuminate sugar's effects and share how to kick the sugar habit. In the meantime, Dr. Gioffre is here to help you understand and combat the symptoms of sugar addiction. In fact, Get Off Your Sugar Summit could help you with:
Overcoming grain and sugar addiction
 Dietary shifts to mitigate sugar's effects
 Tips and techniques for making healthier decisions
 Finding hidden sugars in everyday foods
 Getting your kids off sugar
 Transitioning from sugar burning to fat burning
Creating gut health
 And more!
Transcript About Sugar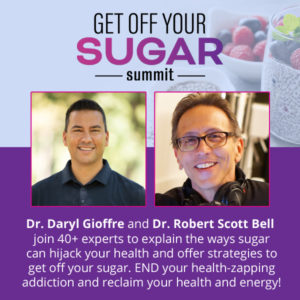 Grab these interview transcripts in the Let's "Talk" About Sugar eBook from HealthMeans, and gain insights from JJ Virgin, Ty Bollinger and Dr. Vincent Pedre!
—>>Click here to download your free sugar addiction transcripts from the HealthMeans library!
In this 33-page document, learn about "Sugar's Contribution to Heart Disease" with JJ Virgin, "The Sugar-Cancer Connection" with Ty Bollinger and "Sugar and Healing the Gut" with Dr. Vincent Pedre!
Here are some mind-bending quotes from these amazing experts:
JJ Virgin
"The real issues actually are a lot of these things that are posing as health foods. Where the problem started was when fat got named the villain of the heart. As we know, that's not the case at all. But when fat got punished, we pulled the fat out of food and started adding the sugar in and then calling the things 'health foods.'"
Ty Bollinger
"Well, it's clear that most doctors, and not all doctors by any means, because I know a lot of doctors that are well aware of this fact, but many doctors don't know the fact that sugar feeds cancer cells. Cancer cells are what's called an obligate-glucose metabolizer. In other words, they love to feed on sugar. That's where they get their energy. Cancer cells are anaerobic, which means the way that they produce energy is through fermenting sugar or glucose."
Dr. Vincent Pedre
"The other thing is that brain-gut connection, like who's in control? And if you're craving sugar, is it your brain craving sugar? Or is it your gut craving the sugar, telling your brain to eat more sugar, whether it's in the form of actual sugar/sweets or it could be that you crave bread. A lot of people, they don't crave sugar; they crave bread. Or they crave potatoes or they crave comfort foods, what we call them. Mashed potatoes. And they don't realize that they're eating sugar. What they're craving is sugar; it's just in a different form."
In fact, these transcripts are full of worthwhile perspectives and tricks of the trade, so take a moment to download them today.
–>>Click here to gain IMMEDIATE ACCESS to these transcripts now!
Keto Bombs
As an illustration, unlock Dr. Daryl Gioffre's 14-page eGuide, 10 Keto Fat Bombs to Burn Fat, Not Sugar! In particular, learn to indulge on sweet treats that can actually help you lose weight!
—>>Click here to download your free eGuide, 10 Keto Fat Bombs to Burn Fat, Not Sugar!
The amazing thing about fat bombs is that unlike most desserts that make you fat, they can actually help you burn fat, especially around your belly. In particular, discover your new favorite source for sweet dessert treats! In general, if you eat fat bombs as part of a low sugar, high fat diet, they shift your body from running on sugar to running on fat. Exactly what you need if you want to lose weight, get energized, and feel better than you have in years!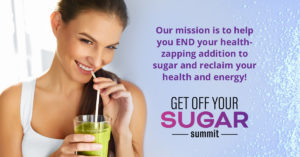 In this guide you'll discover:
Chocolate-Almond Bark Bombs
Coconut Key Lime Fat Bombs
Make-You-Thin Mint Bombs
Chocolate Chip Cookie Dough Bombs
Raspberry Vanilla Bombs
Chocolate & Vanilla Layered Fat Bombs
Chocolate Brownie Bites Bombs
Raw Carrot Cake Bombs
Chocolate Macadamia Nut Bonbons
Cinnamon Coconut Fat Bombs
—>>Click here to gain IMMEDIATE ACCESS to the 10 Keto Fat Bombs to Burn Fat, Not Sugar eGuide now!
After you unlock this gift, you'll also save a seat for the free, online Get Off Your Sugar Summit from April 4-5, 2020. After all, 45 experts teaching you how to leave sugar behind to regain your health and energy. In particular, these BEST of the BEST experts are here to share their expert protocols to kick the sugar habit! Finally, you can start on better health today!
Above all, see you at this important learning event!
Thanks Jimmy,
P.S. I encourage you to find time in your schedule to catch 2-3 of the "featured" talks — you'll see how incredible this event truly is!