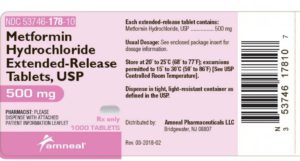 December 5, 2019 the US FDA is aware of low levels of NDMA in foreign countries metformin diabetes drugs. February 3, 2020 the FDA is checking metformin lots from different manufacturers and has not issued a recall. May 28, 2020 FDA laboratory testing shows levels of NDMA above their  acceptable intake limit in several different manufacturers lots of the extended-release (ER) formulation of metformin.
For this reason, the FDA is being proactive, this is the start of the FDA metformin recall 2020. Important to realize, the FDA is in contact with 5 companies to recommend they voluntarily recall their products(1).
What is NDMA?
NDMA – nitrosamine impurity N-Nitrosodimethylamine is a common poisonous impurity (contaminant) in water and food. Above all, this includes dairy products, vegetables, cured and grilled meats. However, according to the FDA everyone has exposure to some level of NDMA. Nonetheless, medical authorities and international scientists do not expect it to cause harm at low levels after consumption.
Surprisingly, the acceptable daily intake limit for NDMA in the U.S. is 96 nanograms. Genotoxic substances such as NDMA may increase the risk of cancer after exposure above acceptable levels and over long periods of time. Furthermore, a person ingesting NDMA at-or-below the acceptable daily intake limit every day for 70 years will not have an increased risk of cancer(2).
In summary, over the limit, metformin ER in question may cause cancer at a faster rate than expected. On the other hand, under the limit and you will be fine.
Metformin Recall
As of July 13, 2020 the companies in the recall are:
Lupin Pharmaceuticals, Inc.
Granules Pharmaceuticals, Inc.
Apotex Corp.
Teva Pharmaceuticals USA Inc.
Marksans Pharma Limited, India
Amneal Pharmaceuticals LLC.
Repackagers in the recall are:
Avkare (repackager for Amneal) – All lots
PD-Rx Pharmaceuticals (repackager for Amneal) – All lots
PD-Rx Pharmaceuticals (repackager for Marksans) – All lots
The Harvard Drug Group (repackager for Apotex) – One lot (T-02134)
Preferred Pharmaceuticals (repackager for Marksans) – Four lots (J0119M, K1419L, K2719J, A0220H)
The FDA highly recommends that if you are taking ER metformin on the recall list, to continue until a doctor or pharmacist gives you a replacement. In fact, you know how dangerous it could be to stop taking medication without talking to your doctor. Additionally, the FDA testing has not found NDMA in the immediate release (IR) metformin(3).
Lastly, the FDA is working on locating the source of the NDMA impurity, hopefully they find it soon.
What Is Metformin?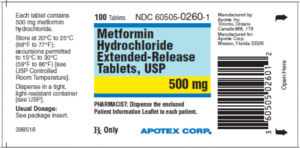 Metformin, initially an extract from the French lilac and for over 60 years used as a medication to lower glucose(4). Metformin is a Biguanide which is a class of medications in use to treat type 2 diabetes and other conditions. Many companies manufacture metformin and is a common drug used to lower blood glucose that occurs during digestion.
Additionally, a safe, low cost first-line treatment for prediabetes, type 2 diabetes, polycystic ovarian syndrome (PCOS), and gestational diabetes. In comparison to other diabetes drugs that work by increasing insulin production, metformin does not. At some point if metformin is not working, then you may need insulin if you cannot control your blood sugar.
Too much insulin may increase your risk of having low blood sugar (hypoglycemia). However, very high blood sugar is as dangerous as very low blood sugar. Metformin taken alone will not increase insulin production, therefore will not increase your risk of low blood sugar(5).
In general, some diabetes drugs cause weight gain, but metformin does not. In essence, doctors like metformin because it may help people lose weight and lower cholesterol. Weight loss is one of the best ways to manage diabetes and keep blood sugar under control.
What Does Metformin Do?
Metformin mainly interacts with your small intestine, liver, and muscle through multiple mechanisms of actions. In the small intestine, metformin acts by reducing the rate of glucose into your blood. This reduces the net amount of glucose that enters your blood from food, postprandial – after a meal(6).
In general type 2 diabetics suffer from increased endogenous glucose production (EGP) – the production of glucose by the liver. Lowering the rate at which the liver exports glucose into the blood is a strategic way to keep blood sugar down(7). Lower the rate at which the liver exports glucose into circulation, therefore decreases the rate of EGP.
In effect reducing EGP, means less glucose enters the blood from your liver, helping to lower blood glucose. In your muscle, the molecular action of metformin is not clear to medical experts. Even though, scientists have observed that metformin treatment results in the activation of a signal known as AMP-activated protein kinase (AMPK).
This activity increases as cellular energy stores decrease, as a result this enzyme has been shown to stimulate glucose uptake into skeletal muscle(8).
Metformin Information
Here is some trivia, 120 million people have a prescription for metformin because it is considered a safe drug(9).
Metformin is available as
Tablets in Immediate Release : 500, 850, and 1000 mg.
Tablets in Extended Release:  500, 750, and 1000 mg.
Liquid Solution: 100 mg/ ml.
Generic versions of immediate release and extended release formulations.
A prescription from your doctor, do not prescribe for yourself or others.
Storage of metformin ideally, is at room temperature between 20 C to 25 C (68 F to 77 F).
Brand names for metformin in the US include:
Glucophage
Glucophage XR
Glumetza
Fortamet
Riomet
Metformin Side Effects
In comparison to other diabetes medications, metformin is very mild in side effects. The most common side effects of metformin are related to stomach disorders, like:
gas.

upset stomach.

nausea.

diarrhea.

cramping.

Long term use of taking metformin may block vitamin B12 absorption in the body. Talk to your doctor about whether you may need vitamin B12 supplements(10).
You can limit these side effects by:

Starting with a low dose like 500 mg and slowly over weeks increase to a daily maximum of 2500 mg. Work with your doctor, eventually, the goal is to give your body time to adjust to the medication.

Taking metformin with food will help you feel less sick or nauseous.

Take an Extended Release (ER) version rather that the Immediate Release (IR). In effect, the goal is to have the medication slowly release into your body over a period of time. For this reason it makes it easier on your stomach and digestive system.
Severe Side Effects

People with kidney issues or heart problems should not take metformin since in rare cases it can cause lactic acidosis. Although the risk is very low it could be fatal(11).
Warning
In general metformin has a good safety profile and is well tolerated. However if you combine metformin with insulin or sulfonylureas, talk to your doctor about side effects such as low blood sugar. Important to realize, report any changes or unusual symptoms to your doctor when you're combining metformin with other medications.
My Experience With Metformin
I did not have a good experience with metformin and within the first month of use, I stopped using it. The most notable side effect was diarrhea which I could not handle, so I quit using it. I was at a point where I would cringe at the thought that it was time for me to take it.
When you are at this point where the drug is not working, immediately talk to your doctor about another solution. I went one step further and started to do research on changing my lifestyle, I have never looked back. Of course you now know that I have my type 2 diabetes under control without medication.
In reality, metformin is a drug that has so much potential, but use it for as long as you need it. You can manage type 2 diabetes through a proper diet and lifestyle.
Summary
Finally, for those of you taking the Metformin ER check with you doctor and pharmacist to ensure your medication is OK. Additionally, check the FDA website as they post updates when they happen. Over the NDMA limit and you are at risk for cancer, under the limit and you should be fine.
After all, your short and long term goal is to control and normalize your blood sugar and insulin resistance. Let Food be thy medicine and medicine be thy food, see my reading list.
One last thing, I appreciate you reading the post, please let me know what you think in the comments.
References