I want to help you manage your type 2 diabetes naturally. Controls For Diabetes may collect a share of sales or compensation from the links on this page.
How To Test For Insulin Resistance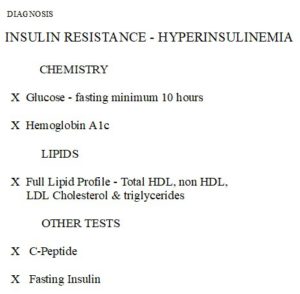 In a normal test for diabetes a doctor will advise a patient to get a HgA1c. In many cases, diabetes may not be detected if it is at or under the normal limit. Insulin resistance is a metabolic condition that requires a higher amount of insulin to push sugar and fat into cells. There is no single test to determine insulin resistance. So, how to test for insulin resistance?
Before we delve into the tests, you may want to check with your insurance to ensure they are covered. Otherwise, no surprises, you need to pay for them and fortunately they are not that expensive. Hence, these tests are necessary to determine insulin resistance and diabetes.
What Tests Do You Need?
Understand the background of the tests will help you provide information to your doctor for the tests you need. As a result, a combination of the tests will help determine insulin resistance.
Fasting Glucose
A sample of blood is taken after a 10 to 12 hour fast and a good marker for detecting diabetes. Reading levels above 95 mg/dL (5.3 mmol/L) indicate insulin resistance. Although fasting glucose may be normal many people can still have significant insulin resistance and pre-diabetes.
Fasting Insulin
Fasting insulin is an inexpensive test but unfortunately, not often ordered by doctors. Anyone with insulin resistance will often have a higher than normal fasting insulin level. Thus, fasting insulin is a good screening test for detecting insulin resistance.
Normal fasting insulin is between 3 to 8 uIU/mL (18 to 48 pmol/L).
C-Peptide
C-Peptide is a blood test, to determine how much insulin your body is producing.  Is a molecule, released in conjunction with insulin and matches it molecule for molecule. Even though it does not influence blood sugar it is useful for determining whether you have type 1 or type 2 diabetes.
C-Peptide is a useful marker of insulin production because it tends to remain in the blood longer than insulin.
Normal range for is: 0.51 to 2.72 ng/mL (0.17-0.90 nmol/L).
Low range and high blood glucose levels could be an indicator of type 1 diabetes.
Low levels of both C-Peptide and blood glucose could indicate liver disease, a severe infection or Addison's disease.
High range could indicate insulin resistance, either type 2 diabetes or Cushing's syndrome.
High levels of C-Peptide but low blood glucose levels may be a result of insulinoma (cancer of the pancreas) or glucose lowering medication affected the result(1).
Triglycerides TG
Triglycerides are a fat (lipid) found in your blood. During or after eating, your body converts excess calories into triglycerides. The triglycerides are then stored in your fat (adipose) cells.
A cause of high triglycerides is excessive consumption of carbohydrates, specifically refined carbohydrates and sugars. When the liver has sufficient glycogen stored, excess glucose is shunted into the production of fatty acids. Fat cells use these to synthesize triglycerides.
Insulin prevents the breakdown of triglycerides from fat cells, triglycerides will remain high due to insulin resistance.
Normal — Less than 150 milligrams per deciliter (mg/dL), or less than 1.7 millimoles per liter (mmol/L)
Borderline high — 150 to 199 mg/dL (1.8 to 2.2 mmol/L)
High — 200 to 499 mg/dL (2.3 to 5.6 mmol/L)
Very high — 500 mg/dL or above (5.7 mmol/L or above)(2).
High Density Lipoproteins-Cholesterol HDL-C
HDL cholesterol is an essential fat, the "good cholesterol" and provides stability in every cell of your body. The good cholesterol removes harmful LDL bad cholesterol. HDL-C reduces, reuses, and recycles LDL cholesterol by transporting it to the liver to be reprocessed.
LDL-C receives all of the press and if the readings are normal, no need to worry(3,4). High HDL levels reduce the risk for heart disease — but low levels increase the risk.
Each bit of HDL-C is a microscopic droplet consisting of a bit of lipoprotein around a cholesterol center. The HDL-C particle is dense compared to other types of cholesterol particles, so it's called high-density.
To travel through the bloodstream, cholesterol has to be transported by helper molecules called lipoproteins. Each lipoprotein has its own preferences for cholesterol, and each acts differently with the cholesterol it carries.
Here are the numbers for the cholesterol test or lipid panel:
HDL-C greater than 60 mg/dL (1.5 mmol/L) are high. Good.
HDL-C less than 40 mg/dL (1.0 mmol/L) are low. Not good(5).
HemoglobinA1C HBA1C
This blood test averages blood sugar for the past 2-3 months, providing information on glucose control. It measures the percentage of blood sugar attached to hemoglobin (the protein which carries oxygen in your blood cells). The higher your blood sugar levels, averaged, the more hemoglobin with sugar attached.
The American Diabetes Association recommends 2 checks per year minimum and 7.0% (53 mmol/mol) but work with your doctor. To point out, that at 5.6% you will probably be insulin resistant. The numbers may seem low, but the ADA keeps changing the numbers and you could be insulin resistant for years.
Lower is better, an HBA1C between 5.6% and 6.4% (38 and 46 mmol/mol) indicates pre-diabetes.
Greater than 6.4% (>46 mmol/mol) is diabetes.
Homeostatic Model Assessment- Insulin Resistance  HOMA-IR
HOMA was developed in 1985 by Matthews et al. It is a technique to measure insulin resistance and beta-cell function from basal (fasting) glucose and basal insulin. HOMA uses the glucose and insulin variability relationship to predict fasting steady state glucose and insulin concentrations.
HOMA is a model of the relationship of glucose and insulin dynamics that predicts fasting steady-state glucose and insulin concentrations to determine insulin resistance and B-cell function. Insulin is secreted from the pancreatic β-cell in response to glucose levels, while, being regulated by insulin-mediated glucose output from the liver. Therefore, a defective B-cell function will not respond properly to glucose stimulated insulin secretion.
Correspondingly, insulin resistance affects insulin's lack of glucose uptake. The HOMA uses a set of simple, mathematical equations to describe glucose-insulin relationship. A disadvantage of the HOMA as with all mathematical models, are the limitations and cannot provide a "full" metabolic description.
The model only uses basal values, otherwise it will not yield any usable estimates of function. HOMA is still a homeostatic model, which means it calculates a steady-state solution. The HOMA model is a robust, simple, clinical tool to determine insulin resistance and the latest version is HOMA2.
The HOMA2, free for personal use downloadable calculator
How to Calculate HOMA-IR:
Insulin uIU/mL (mU/L) (multiplied by) X Glucose (mg/dL) (equals) = HOMA-IR
The HOMA-IR calculation requires U.S. standard units.
International S.I. units:
Insulin: pmol/L to uIU/mL, divide by (÷) 6
Glucose: mmol/L to mg/dL, multiply by (x) 18
Healthy Range: 1.0 (0.5–1.4)
Less than 1.0 means you are insulin-sensitive which is optimal.
Above 1.9 indicates early insulin resistance.
Above 2.9 indicates significant insulin resistance(6). Additionally, Dr. Richard Mauer gives a great description of the meaning of HOMA.
TG:HDL-C Ratio
The TG:HDL-C is an excellent, low cost, precision, and easy test to determine insulin resistance. Comparatively, to an insulin test, it is very low cost. People with insulin resistance, TG levels increased while HDL-C levels decreased.
TG:HDL-C ratio is an alternative tool for gauging insulin resistance. The higher the ratio the poorer health status due to a large amount of circulating fats in the blood stream and/or a low amount of healthy cholesterol. A TG:HDL-C ratio of ≥3 indicates significant insulin resistance.
How to Calculate TG:HDL-C:
TG (mg/dL) (divided by) / HDL-C (mg/dL) (equals) = TG:HDL-C
The TG:HDL calculation requires U.S. standard units.
International S.I. units:
HDL: mmol/L to mg/dL: multiply by (x) 39
TG: mmol/L to mg/dL: multiply by (x) 89
Healthy: 1.0
Optimal range: 0.5–1.9
Some insulin resistance: 2.0–3.0
Significant insulin resistance and heart disease risk is found at ratios >3.0(7). See Dr. Richard Mauer's site.
The Importance Of Insulin Resistance Tests
"Should you be tested, absolutely not, only if you care" – Dr Joseph Kraft(8). Furthermore, for those of you that do care, these tests will save your life. Consequently, hyperinsulinemia left unchecked and progressing on for years is a pathology of the arterial wall.
The wall is an insulin sensitive tissue, chronic exposure to high levels of insulin results in formation of lipid filled lesions similar to early atherosclerosis(9). In addition, long term insulin resistance results in Atherosclerosis found in the vast majority of diabetic cases. Insulin can stimulate the arterial muscle cell proliferation and lipid synthesis in the arterial wall, the phenomena is called endothelial dysfunction.(10).
Surprisingly, many people die from heart attack and stroke and not know they are diabetic. Furthermore, is it any wonder that 80% of type two diabetics suffer and die from cardiovascular issues (11).
Finally, diabetic retinopathy, neuropathy, nephropathy and cardiovascular issues are chronic conditions that damage the body. In fact, the process for each of these chronic conditions takes years even decades to develop. Thus, insulin resistance and high blood sugar will keep on doing damage(12).
So, I hope you understand how to test for insulin resistance. Besides, you will never know until you get the proper and timely tests. Regardless, let me know what you think in the comments.
Thanks for dropping by and reading.
For further reading on diabetes and general health go to my Recommended Books To Read page.
References
1. C-Peptide Test – https://www.diabetes.co.uk/c-peptide-test.html
2. Triglycerides –https://www.mayoclinic.org/diseases-conditions/high-blood-cholesterol/in-depth/triglycerides/art-20048186
3. The Great Cholesterol Con: The Truth About What Really Causes Heart Disease and How to Avoid It, Dr. Malcolm Kendrick, John Blake; Updated edition, October 1 2008.
4. A Statin Nation: Damaging Millions in a Brave New Post-health World, Dr. Malcolm Kendrick, John Blake; None edition, June 1, 2019.
5. HDL Cholesterol – https://www.webmd.com/cholesterol-management/guide/hdl-cholesterol-the-good-cholesterol#1
6. the Bloodcode.com HOMA calculator https://www.thebloodcode.com/homa-ir-calculator/
7. the Bloodcode.com Calculator  https://www.thebloodcode.com/calculators/
8. Diabetes Epidemic and You, Dr. Joseph R. Kraft, Trafford Publishing, 2008.
9. Stout, 1979 – https://link.springer.com/content/pdf/10.1007%2FBF01219790.pdf
10. Role of Insulin Resistance in Endothelial Dysfunction – https://www.ncbi.nlm.nih.gov/pmc/articles/PMC3594115/
11. Reasner, 2008 – https://www.ncbi.nlm.nih.gov/pubmed/18670366
12. Insulin Resistance: A Clinical Handbook, Andrew Krentz, Wiley-Blackwell, June 9, 2008.